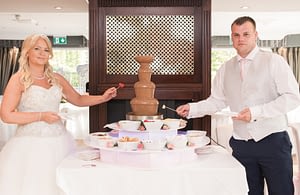 Welcome to our chocolate fountain hire in Sussex page. You have found us, that is the first step. Now take a look at what we offer in Sussex.
As good as our chocolate fountain hire in Sussex looks from above it looks even better in person!
You will receive a first-class service with a dedicated operator who will make sure your guests enjoy the fountain and have a really good experience.
Stop paying for that boring dessert and give our chocolate fountains a go. We have various sizes for various budgets and can find the perfect fit for your event.
We are also proud to offer clients in Sussex: Casino table hire, magic mirror booth hire, sweet cart hire, cheese cart hire, package deal (29″ fountain, popcorn cart & candy floss cart).
Don't delay, contact us today………
*A massive thank you to Carla Waterer for the stunning photo.