Champagne Fountain Hire, Drinks Fountain Hire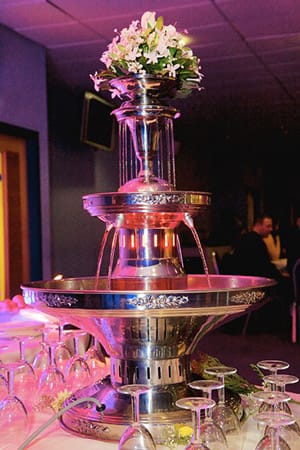 Similar to a chocolate fountain, our champagne fountain hire allows you to add that extra sparkle to any event, birthdays, wedding reception or corporate party or maybe a summer garden party.
Each drinks fountain can hold a wide range of drinks including bubbly, Pimms, Baileys with chocolate cups, red wine, white wine, spirits, blue WKD and many others.  Our favourite is pimm or rum punch.
Want a pimms fountain,  this refreshing, summer drink is loved by all.   
Try this recipe:
Fill your glass with ice
Pop in the mint and chopped fruit
Put your glass under the fountain
Pour the pimms and lemonade from the drinks fountain
Add cucumber and mint leaves
You are ready to go
Yum
Rum punch recipe
1 cup fresh lime juice
2 cups grenadine syrup
2 cups Jamaican white rum
1 cup light rum
2 cups fresh pineapple juice
2 cups fresh orange juice
Pinch freshly grated nutmeg, optional
Orange slices, for garnish
Yum, Jamaican style
The drinks fountain can be supplied to your venue with a chocolate fountain for a reduced rate if delivered and collected at the same time.
For our drinks fountain hire, the client provides the drink and glasses.
Please contact us for further details and quotations for our Champagne Fountain Hire.
Not many know about or have seen a drinks/bubbly fountain, so why not give it a go.  A wonderful added extra to your party, add a little sparkle to your day.
Always wondered why other bubbly cannot be called champagne?  Here's why:
Sparkling wine from the Champagne region of north‐eastern France, made by a second fermentation in the bottle. … Sparkling wines from other regions, even when made in the same way, cannot legally be called champagne, but are known as being made by the méthode champenoise.