Try our fun casino table hire Hampshire for the ultimate FUN factor
Casino table hire Hampshire, Surrey, Dorset etc.
Fun casino table hire in Hampshire will be the best addition to your wedding or event. Whatever the occasion, let us bring the thrill & excitement of a Vegas casino with our fun casino table hire to your wedding, corporate event or party.
With our fun casino table hire in Hampshire, we offer professional casino hire with a fun twist. We have been offering casino tables for 18 years alongside our chocolate fountains. They are a great addition to any event and your guests will have so much fun your wedding or event will be a massive hit.
With no real money involved, you can be safe in the knowledge that the event is just for fun. All the thrill and excitement of a Vegas casino, with professional croupiers and real casino chips, our full-sized casino tables will keep your guests entertained all evening.
Perfect for weddings, private parties, corporate events or a group of friends.
Casino Hire includes:
Full-sized fun casino table hire
Fun money (bespoke options available)
Fully qualified croupiers
Casino grade chips
3 hours deal time
Bottle of bubbly for the overall winning guest
Cost includes set-up and delivery
Most of all a fantastic night of fun and laughter

Our happy clients…

"I would like to thank you so much for the casino table hire and for the hard and amazing job you and your team have done at our casino table hire in Hampshire for our Casino Night. Everyone had so much fun and enjoyed themselves." Kristina K.

"Awesome job guys, Lorraine and Jody were lovely and our guests had a ball. My wife loved her surprise birthday gift. Hoping she will do it for mine!" Doug

"Your fun casino hire was great, my boss was so pleased with the job I did organising everything and this was mostly down to the lady in your office who helped with everything! Will definitely use you again." Dawn
HOW TO PLAY – Fun casino table hire Hampshire
HOW TO PLAY ROULETTE
THE BASIC RULES WHEN PLAYING ROULETTE IN HAMPSHIRE
It starts with players making bets.
The croupier (or dealer) throws a ball into the spinning roulette wheel. Players can still make bets within the process.
While the ball is rolling at the roulette wheel, the croupier/dealer announces: "No more bets."
At that point, players are not allowed making bets
The ball lands on a number in the roulette wheel. If there are winners who bet the number, section or colour, they will be rewarded according to their betting odds.
TYPES OF ROULETTE BETS
Okay, getting on with it: The players buy-in for chips (or bring chips to the table), then place their bets on any number of propositions:
Inside bets are placed directly on one or more numbers
Outside bets are placed on certain propositions such as high-low, odd-even, red-black, first, second and third dozen, etc.
There are other combinations of bets that can also be made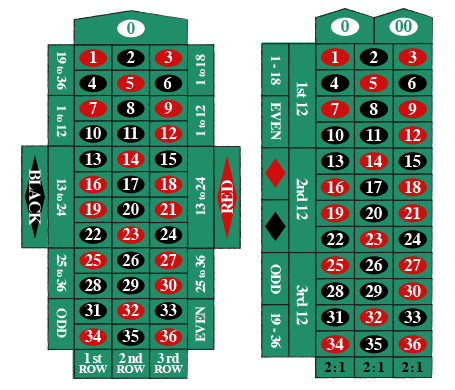 BLACKJACK RULES
I often shake my head in disgust when I pick up a brochure that you will usually find somewhere in a casino that explains "How to Play Blackjack." Invariably it will state that the objective of blackjack is to get as close to 21 as possible. Wrong!
The objective of blackjack is: to beat the dealer's hand by either
1) having a total that exceeds the dealer's total
2) by not going over 21 when the dealer does.
CARD VALUES
As mentioned at the top, all cards count their face value in blackjack. Picture cards count as 10 and the ace can count as either 1 or 11. Card suits have no meaning in blackjack. The total of any hand is the sum of the card values in the hand. A hand containing a 4-5-8 totals 17. Another containing a queen-5 totals 15. It is always assumed that the ace counts as 11 unless so doing would make your hand total exceed 21, in which case the ace reverts to a value of 1.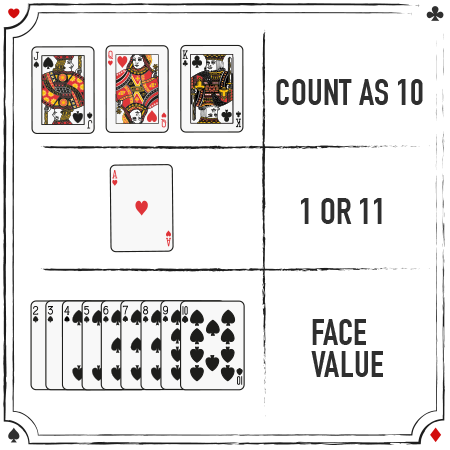 BUSTING
When a player or dealer's hand exceeds a total of 21, this is known as busting. (Sometimes the term "break" is used when the dealer's hand exceeds 21.) So if a player was dealt a 10-6, drew one more card which was a 9, the player busted (i.e., because his hand totalled 25).
HARD VS SOFT HANDS hard hand is any hand that either does not contain an ace or if it does, counts the ace as 1. For example, 10-8 is a hard 18; 5-A-10-2 is a hard 18. Any hand that contains an ace that counts as 11 is known as a soft hand. For example, A-5 is a soft 16; A-2-5 is a soft 18, and 3-2-A-3 is a soft 19. When you receive your first two cards and one of them is an ace, count the ace as 11.
Often when you are dealt a soft hand and draw more cards your hand will convert to a hard hand. For example, suppose a player is dealt with a 5-A which is a soft 16, and he draws another card. Suppose the drawcard was a 6. The player now has a hard 12 (i.e., you can never bust when you draw to a soft hand). The reason you need to know the difference between a hard and soft hand in blackjack is that the playing strategy is often different even though the total of the hand is the same. For example, a 10-6 (hard 16) is played differently than an A-5 (soft 16).
Contact us for a free quotation:
Tel: 02392 502821
Mobile: 07745 231510
Email: enquiry@chocolatefountainheaven.co.uk
Casino table hire Hampshire. Casino table Surrey. Casino table Dorset. Corporate casino hire.