Photo and Video Booth
Our photo and video booth is great for capturing messages from well-wishers at weddings and parties as well as feedback following corporate events or conferences. Our video booths are fully automated with on-screen instructions and fully interactive touch screen controls users can record video messages of up to 60 seconds. If your guests wish to sing you a song this will be captured on the video booth and put onto a memory stick for you to keep (posted to you after your event)
Guests simply approach the video booth, position themselves accordingly, then press the start button on the screen, after a short delay to compose yourself your video message recording starts, leave your message and when done press stop video on the screen, the video pod is then ready for the next user!
The booth can also take photos, there is no wait time as there is no printer with this video booth. So dress up dance and sing and enjoy your evening. Guests leave you lovely messages and we then put this onto a memory stick and send it to you within 2 weeks and you will have those memories forever.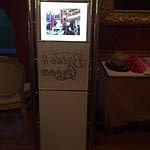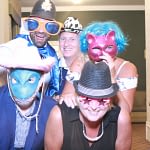 Hire
Evening hire of the photo or video booth
A few props
Set up & delivery
Collection
Videos/photos put onto a USB £199
OR
Full day hire
Full day hire included in total price (available from when the first guests arrive until the last ones leave)
A couple of props
Set up & delivery
Guests can record unlimited personal video messages or photos
HD Camera
Next day collection (subject to approval with the venue) or collection at 11pm £249
Alternatively, hire the video pod along with something else and we will be there to keep an eye on it and help and guests as required.
Please contact us for details and cost of hiring the pod.